Doctoral research 2015 – 19 that gathered quali­tative evidence from artists in North West England to define conducive condi­tions for pursuing art practices and liveli­hoods over time. Includes critique of arts policies in England 1985 – 2015 intended to be supportive of artists and new insights into barriers to sustaining artists' liveli­hoods in future.
This doctoral thesis examines the positioning of visual arts within the creative indus­tries through an in-depth, empirical study of the artistic and personal lives of a discrete cohort of artists in North West England. It argues that the policy elision of visual arts with the creative indus­tries has resulted in lack of in-depth knowledge of the ​'wealth of differ­ences' in motives, inten­tions, attitudes and personal circum­stances of artists as they evolve and pursue liveli­hoods through art practices over a life-cycle.
Although certain Arts Council England policies during 1985 – 2015 intended to aid artists' liveli­hoods directly or indirectly, analysis confirms that no real change was effected. Over that period, visual artists have tended to be at an economic disad­vantage with low incomes and lack of acces­sible oppor­tunity under­mining their ability to amplify creative processes and sustain liveli­hoods in the longer-term.
This research which draws together primary and secondary sources demon­strates that the art practices of artists are charac­terised by continuous practice-led ​'research and devel­opment' fired by deeply-held beliefs and intrin­si­cally-framed values and punctuated by creative inter­ac­tions within and beyond their immediate artistic disci­plinary context and geographical location.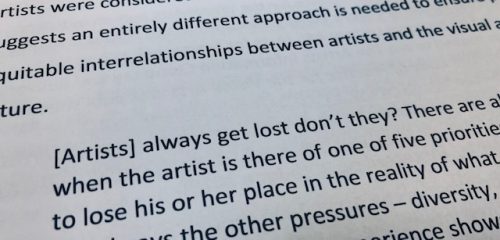 Frame­works supportive of artists usually remain close to where they reside, encom­passing the artistic encour­agement and emotional comfort provided by families and individ­ually-framed devel­opment and profes­sional relation­ships. The fine-grain analysis and trian­gu­lation with cross-reference to relevant evidence developed within this research has generated new theory on the inter­re­lated condi­tions conducive for, and supportive of, artists' practices and liveli­hoods including a defin­ition of their charac­ter­istics and the parameters.
The thesis concludes by setting out two bold propo­si­tions for enabling and facil­i­tating these optimum condi­tions involving radical adjust­ments to framing and applying arts policies in future.
Artists' liveli­hoods: the artists in arts policy conundrum, 2019 is available at http://e‑space.mmu.ac.uk/62635…