Effective strategies for retaining the artist-led as a vital ingre­dient in social and arts well-being in future involves artists seeking out allies and synergies beyond the restrictive hierar­chies of the contem­porary visual arts.
Action by groups of artists driven by collective artistic aspira­tions has punctuated the contem­porary visual arts landscape over the last fifty years. Through joint — sometimes ​'alter­native' – ventures, artists' practice-driven interests have provided dedicated means for testing and extending the scope for inter­action with artistic collab­o­rators and commu­nities of interest, including with spectators for and buyers of contem­porary art. Artists' initia­tives raise status and expand remit through such engage­ments, while also contributing to widening under­standing of the artist's role in society. Although outcomes differ in form and intention, the common­ality between such artists' groupings is persistent commitment to working through the processes of making art, forging productive relation­ships with others and desire to amplify engage­ments with their immediate constituency as well as with broader commu­nities and society. Products of artist-led initia­tives range from works by individual artists presented collec­tively in exhibition or site-specific format to collab­o­rative art works and manifes­ta­tions in which the artists' social engagement with other people is core. As part of the financing of the latter, artist-led initia­tives itera­tively define suitable organ­i­sa­tional and ​'business' models for their particular circum­stances. In these artist-led spheres of operation, social and economic benefits to artists accrue over time and contribute to sustaining their art practices and liveli­hoods over a life-cycle.
In the ​'arts as regen­er­ation' era since the ​'80s, artist-led ventures have been key contrib­utors to building the UK's cultural identity and contem­porary visual arts infra­struc­tures. London's now renowned concen­tration of artists' studios began in the ​'60s when groups of artists took over St Catherine's Wharf. It continued steadily through the energies later of artists' initia­tives Acme and SPACE, in effect gentri­fying run-down areas of the capital and providing a model later emulated by other cities. These organ­i­cally-grown ventures suited arts funders who cherry picked and talked-up the aspects of the artist-led which are more palatable to, and measurable by, economics-based arts devel­opment yardsticks and are more easily cross-refer­enced to existing tradi­tional insti­tu­tional infrastructures.
Brighton, Parry and Pearson's seminal 1985 explo­ration of artists' economic status located their propo­si­tions for improvement firmly within the tradi­tional gallery and art market systems. Greater support by funders for artist-led organ­i­sa­tions including galleries and group studios to ​'mediate their own reputa­tions directly with the public' was justified because this contributed to preserving dominant art market and art world patterns. The National Lottery's massive new income streams for the arts from 1994 promised to transform the cultural landscape and provide greater levels of support for artists working in the public realm, including by putting more public funding to the artist-led.(1)
The lottery's Art for Everyone strand gave £100,000 (equiv­alent to £213,000 nowadays) to MART artists' initiative for month-long, city-wide ​'festival of visual art made in Manchester'. At the turn of the Millennium, Williams' analysis likened post-indus­trial Manchester to ​'60s New York, with ​'plenty of slack in the system' including an abundance of cheap live and work space for emerging artists and artist-led initia­tives to appro­priate. MART's eight-strong organ­ising group that brought together independent artists with others from the city's studios including SIGMA, Manchester Artists Studio Associ­ation, Rogue and Bankley Studios argued that the low profile of visual artists was a ​'cultural gap' that needed filling in a city already renowned for performing and media arts, science and sports. Unlike the 1995 – 96 multi-site exhibition ​'British Art Show 4' that preceded it and that relied on incoming artists, MART's projects and exhibi­tions were explicitly home-grown. More specif­i­cally MART intended to ​'reveal the sheer strength and diversity of artistic practice…. and make the work of Manchester's visual artists visible and available to all'.
Notably, MART's overar­ching ambition to create temporary manifes­tation that would catalyse a sustainable network of practi­tioners and act as a departure point for collab­o­ration on future city-wide festivals with the estab­lished art insti­tu­tions such as Corner­house (now HOME) and Manchester City Art Gallery on equal terms remained unrealised. The cohort of newly-graduated photog­ra­phers who in the same period initiated the ​'New Exposures' festival in seventeen tradi­tional and ad hoc spaces were however more successful in creating legacy. The aspiration to support and retain practi­tioners in the region beyond gradu­ation was later realised through Redeye, the profes­sional network and a membership body for photog­ra­phers now in receipt of regular funding from Arts Council England. Such examples illus­trate Wright's assertion that the connective tissue sustaining artists' initia­tives is the strong friendship born out of the camaraderie of student life.
Arguably, infor­mality and tempo­rality are vital charac­ter­istics of collec­tively-realised initia­tives where retaining artistic integrity and fluid modus operandi are prime drivers. TEA – a collab­o­ration between four new graduate artists in late ​'80s Manchester took the novel approach of estab­lishing each process- and place-based inves­ti­gation as a ​'temporary insti­tution' that encom­passed the interests of all collab­o­rators. The unifying ​'brand' was a practice-led, collab­o­rative research method­ology with metic­ulous planning struc­tures individ­u­alised frames of reference and targeted production and distri­b­ution mecha­nisms. This strategy enabled TEA to gain the equiv­alent of £123,000 nowadays in public funding while avoiding the dampening impacts of adopting a tradi­tional, chari­table organ­i­sa­tional structure. The success of these artists-led temporary ventures led some of the (then) regional arts boards in England to solicit ideas from groups of artists for Regional Arts Lottery Programme (RALP) funding. As example, North West Arts Board's Working with Artists Franchise Scheme from 2000 reported on by Stanley offered three-year funding of up to £100,000 a year to artists' initia­tives, with decisions notably made on quality of work rather than instru­mental value.
These examples demon­strate how funding inter­ven­tions capture and appro­priate the artist-led as means of ratio­nal­ising what artists can do for arts policy ends. Funders benefit from being part of the frisson an ​'alter­native label' brings, while they anchor and confine the scope and granu­larity of the artist-led back into the insti­tu­tion­alised practices they like best. An example is the argument for greater support of artist-led initia­tives that emerged from Morris, Hargreaves and McIntyre's 2004 study of the markets for art. In what was dubbed as a ​'golden age' for the arts with massive expansion of the physical infra­structure for the arts, a Labour government increased grant-in-aid to the Arts Council by 70%. Expanding markets for art beyond London in cities with virtually no infra­structure for selling criti­cally engaged, innov­ative, contem­porary art became a holy grail for arts policy­makers. On economic arts policy grounds, artist-led galleries, open studios, art fairs and festivals were valued as prime vehicles for accessing the £515m in retail sales of contem­porary or ​'cutting edge' art. Widening access to this untapped income source would have the effect of ​'bringing on' emerging talent without upsetting the fine balance of the commercial art gallery subscription model eschewed by arts policy. The effect of this gatekeeper mechanism which arbitrates between ​'art' and ​'decoration' otherwise discourages artists from selling to unauthen­ti­cated buyers. (2)
Morris, Hargreaves and McIntyre's Art Eco-System Model demon­strates that selected artist-led galleries might be worthy candi­dates of public funding in recog­nition of their discrete role in this respect. Moves on contem­porary visual arts courses to encourage under­graduate students to form groups and work collab­o­ra­tively, as identified by Rowles' 2013 study could similarly be construed as an economics-led solution by demon­strating the ​'employ­a­bility' and career devel­opment arising from higher education courses. In the same vein, Manchester School of Art actively supported students on gradu­ation to form the DIY Art School as a peer network and ​'fourth year' of their course.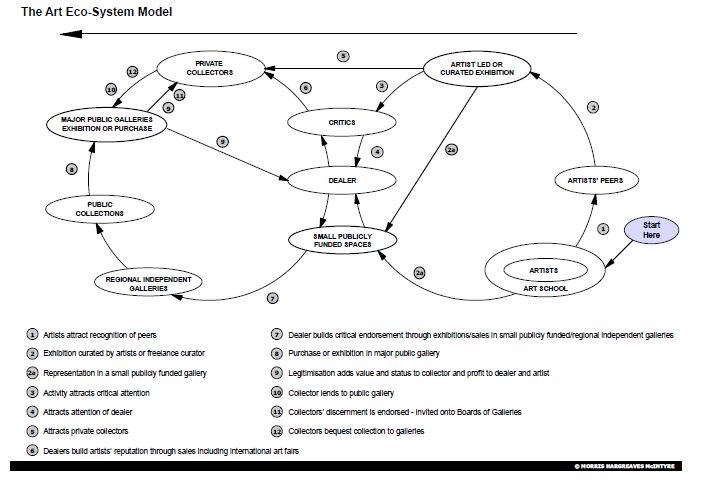 While playing to the blunt instru­men­tality of an economic art model, these neat delin­eations of the scope, purpose and impacts of artist-led practices belie a hetero­geneity of social benefits. My 1995 study of 300 artist-led groups demon­strated value created in various ways, whether divergent from or synergous with arts policy imper­a­tives of the day. The majority provided groups of artists with the ​'means of production' in the form of collective workshop and studio space and joint marketing initia­tives as practical support to artists' individual practices and liveli­hoods. In just under a third however, artists' individ­u­alised aspira­tions for art practices were super­seded by forging collab­o­ra­tions premised on wider social activism and engagement. As example, London-based Platform's inter­dis­ci­plinary work was driven by ecological and social imper­a­tives. This alliance of video and perfor­mance artists, musicians, engineers, social histo­rians and green econo­mists later became renowned for the Artwash campaign that success­fully stopped BP sponsorship of the arts.
Although these divergent types of artist-led venture bring nuanced values to artists' pursuit of art practices over a life-cycle, the tendency of funders in the UK's ultra neo-liber­alist arts economy model is to give preference to public-facing ventures with readily measurable ​'outcomes' such as earned or philan­thropic income and audience volume. Reanalysis of my own study data highlights the baseline disjunction between the intrinsic values that underpin and sustain artists and artist-led practices and arts policy's instru­men­talised measurements.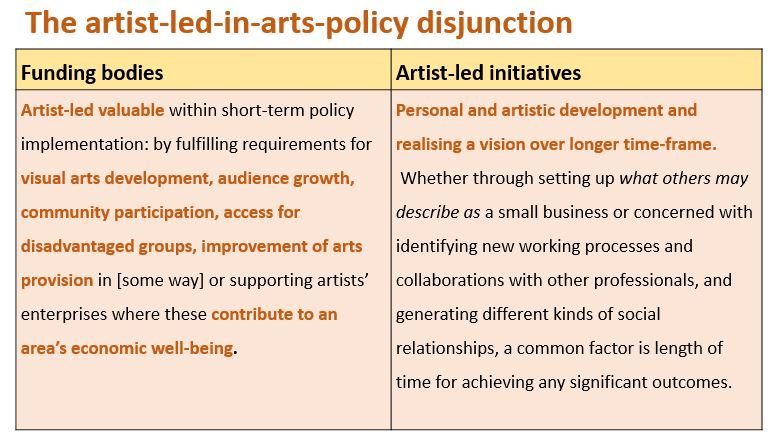 As Adams and Godbard concluded, funders' preference is to deal with organ­i­sa­tions which look and act like they do, including speaking their language. Grant-givers ​'tend to be organ­i­sa­tional technocrats… treating management struc­tures and techniques as handy, value-neutral tools for making things happen.… [judging the] board-led structure [as] the best tool for getting just about any job done'. The artist-led in arts policy disjunction is colour-illus­trated by the funding decisions made by Arts Council England 2010 when faced with substantial cuts to government grant-in-aid. Louise's analysis revealed that axing sixteen small-scale, artist-led organ­i­sa­tions including production facil­ities, artist residency providers and membership groups affected the art practices and liveli­hoods of almost 6,700 visual artists. When push came to funding shove, these artist-centred ventures were judged of far lesser impor­tance than the ​'frontline' insti­tu­tions who interface face-to-face with, and derive economic benefit from the public.
Many of the forty-seven organ­i­sa­tions categorised and funded by ACE as ​'artist-led' since 2018 as National Portfolio Organ­i­sa­tions (NPOs) are permanent, building-based chari­table organ­i­sa­tions. As pragmatic move to keep artists' divergent artistic imper­a­tives ​'in the game', such artist-led groups are unwitting supporters of a biased and unfair art system for artists. Research by Thelwall and by De Mynn both proposed how ​'insider' small-scale and artist-led organ­i­sa­tions might use their influence with funders as leverage to change an imperfect system for the better from within. They could collect evidence and advocate wherever they could for their ​'alter­native' organ­i­sa­tional approaches, as mecha­nisms for capturing artists' unseen ​'outputs', as vital divergent contri­bu­tions to society. However once in the ​'regularly-funded' arena, smaller and artist-led organ­i­sa­tions can inadver­tently become complicit in the ​'rules' of contem­porary visual arts that stifle dissent and keep most artists ​'in their place', at the bottom of the arts food chain. They condone the inequal­ities of the mediating and gatekeeping protocols that charac­terise the workings of the contem­porary visual arts, including accepting unfair treatment of artists through poor pay and condi­tions, lack of meritocracy and creeping levels of preference for the recom­men­dation route over open submission. The price of reliable funding for these organ­i­sa­tions is having their ideas pinned down and categorised, only accounted for when outcomes are easily measurable, all require­ments that may distract from what supporting artists' practices is really about. But in any case, funding to this aspect of contem­porary visual arts is minor as only 11% (or £4.8m over a 4‑year period) of ACE's entire visual arts NPO budget goes to regularly-funded artist-led organisations.
In such contexts and as Nichol observed, the gap between artists' and funders' needs and inten­tions nibbles away at the rigor of artists' practice-focused ethos. Being funded serves to endorse and encourage only certain aspects of artists' activity. Unhealthy levels of exclu­sivity and preciousness are unintended conse­quences of being lead in funding-focused direc­tions. Encour­aging practice-led organ­i­sa­tions to adopt the bureau­cratic struc­tures of bigger organ­i­sa­tions is restrictive of ad hoc and alter­native, creative approaches to achieving artistic ends. Serving the different perspec­tives and expec­ta­tions of funders and board members is a time-consuming distraction to maintaining core principles. In short, ​'Making a commodity of practice-led activity … impacts on artists by altering the nature of their activity or [sustaining poor] condi­tions'. Goodman's story encap­su­lates what artists can't talk about, and how this condones unhealthy condi­tions and relation­ships in contem­porary visual arts. Although feeling ​'fucking pissed off' at losing the space the group had invested in over time at short notice, his emotional precarity was automat­i­cally reframed into the positive language charac­ter­istic of art world resilience. Adopting the ​'talking up' that pervades arts commu­ni­ca­tions, he fell into ​'performing the role' the art world expected of him. In reality he felt ​'kicked in the teeth' but his external commu­ni­ca­tions belied it. In trans­lation, the artists were instead ​'excited for what is next', relishing the ​'oppor­tunity to reflect on what we want to do and build something better'.
In terms of identi­fying a more substantial, influ­ential position in the arts ecology in future, artist-led groups might take a leading advocacy role to policy­makers by gener­ating a stream of evidence about artists' social condi­tions and the nuanced impacts of their practices on society. Despite being located in the lowest tier of the Arts Council's NPO hierarchy, funded artist-led organ­i­sa­tions have oppor­tunity through regular commu­ni­cation and reporting to ensure ACE is aware arts policy's positive and negative impacts on all artists' ability to sustain practices over a life-cycle. Although it is common­place in other countries and nations for artists' repre­sen­tative bodies to take this strategic advocacy role, attempts to sustain a credible tradi­tional artists' membership body in England have consis­tently failed to gain popular support.(3)
As redress and as invitees to policy-making fora, NPO artists' organ­i­sa­tions could take respon­si­bility for bringing insights and experi­ences of the wider artists' community into various fora where decisions that affects artists' social status are made. However even if they did chose to pursue this ​'greater good' remit, NPO reporting arrange­ments restrict oppor­tunity for collecting such nuance of evidence and depth of advocacy. Rather than artic­u­lating values and outcomes arising from the distinctive and nuanced role of the artist-led in enabling artists' practices and liveli­hoods, NPO terms of reference are mecha­nistic, focusing predom­i­nantly on measuring public-facing impacts such as audience volumes and demographic.
Overtly social activist artist-led group such as Platform were able to attract grant-aid in the past from a regional arts board for work that was inher­ently polit­i­cally awkward. In the ultra-conser­v­ative, risk-adverse environment for the arts today, micro and practice-led initia­tives dedicated to progressing unambiguous critique of the status quo are far less likely to be ​'seen' or to gain access to short or longer-term public funding. The situated practices and energies of artists' initia­tives at the turn of this century played a signif­icant role in reimag­ining post-indus­trial Manchester as the creative and cultural hub it now is. My own defin­ition for situated practices in this respect is those that are conceived, developed and modified by artists over time in relation to artistic ambitions which encompass their person­alised circum­stances including where they live and family contexts. With the notable exception of Castle­field Gallery, artist-led ventures in Manchester get scant support from the arts infra­structure to remain or set up there nowadays. The artists' studios pivotal to MART's critical edge and cultural relevance have since been allowed to close or forced to migrate to the periphery. Rather than on strate­gi­cally nurturing the indigenous artists' community, the high status enjoyed by the city's ​'top tier', large-scale NPO arts insti­tu­tions rests nowadays on their success in importing inter­na­tionally-accredited talent.
I'd argue that locating effective strategies for retaining the artist-led as a vital ingre­dient in social and arts well-being in future involves artists seeking out allies and synergies far beyond the restrictive, disem­pow­ering hierar­chies for contem­porary visual arts. Whether transient or sustained, frame­works and kindred spirits most welcoming and supportive of artists are more likely to be found close to where they reside. Hyper-local initia­tives exemplify the richness and resilience of embedding socially-engaged and place-based artist-led inter­ven­tions and collab­o­ra­tions into specific commu­nities. Deveron Arts in Huntly, Scotland has used the town and 4,500 population as resource and venue over the last twenty-five years. Artists of all disci­plines come from around the world to live and work there, using super­markets, streets, churches, garages and bothies around and about as studios and sites. In a similar vein, artist-led In-Situ's vision is to ​'allow art to be a part of the everyday life'. Ambitions are to foster resilience and innovation across their Pendle community, so all people ​'speak and act with confi­dence' and are actively engaged in their cultural futures.
More laterally, clues about struc­tural remedies to artists' integration in social change that enable artists as citizens to be both seen and heard are emerging from artists' direct inter­ven­tions into localised policy-making. Preston's Brewtime Collective is integral in devel­oping the city's 12-year cultural policy, this within the artists' overall ambition to create a sea-change that ​'embeds cultural experi­ences in the lives and expec­ta­tions of all the people'. In the new Mayoral constituency of West Yorkshire artists are prominent, their voices heard loud and clear. There, the strategic processes and consul­ta­tions emanating from Same Skies Think Tank are devel­oping new, situated arts and cultural policy from the ​'bottom-up'. These few topical examples are part of a burgeoning of progressive actions by and with artists. They are indicators of the condi­tions enabling artists to be both seen and heard, and could – at long last — achieve Redcliffe-Maud's 1976 aspiration for arts policy measures that are truly repre­sen­tative of the constituencies they serve by ​'foster[ing] individual creativity and … bring[ing] the results [of that] before the public'.
Commis­sioned and first published by Sluice, 2021, this text draws on the author's studies Refreshing alter­na­tives (1995) and Measuring the experience: the scope and value of artist-led organ­i­sa­tions (1996).
Notes
(1) Support to artists as a key aim for National Lottery funding is stated for example in Public Art in the North – a strategic approach to public art and lottery funding, Northern Arts Board paper, 1995.
(2) Morris, Hargreaves and McIntyre's study identified mecha­nisms for, and barriers to, accessing an untapped £354.5m market from sales in the tradi­tional gallery-based art world and £515.5m from work sold through ​'non-legit­imised' channels including art fairs, shops and studios.
(3) Reportage of this Platform campaign is at https://platformlondon.org/p‑publications/artwash-big-oil-arts/
Refer­ences
Adams, D, and Goldbard, A. (1992) Organ­ising Artists: a document and directory of the national associ­ation of artists' organ­i­sa­tions, National Associ­ation of Artists' Organ­i­sa­tions, USA.
Brewtime Collective https://​somethings​brewing​.org​.uk/​b​r​e​w​time/ [Accessed 3rd March, 2021]
Brighton, A., Parry J. and Pearson N. M. (1985) Enquiry into the Economic Situation of the Visual Artist. London: Calouste Gulbenkian Foundation.
De Mynn, R. (2016) Artist Devel­opment at Castle­field Gallery: Policy Change through the Counterpublic? Manchester: Castle­field Gallery Publications.
DIY in Manchester, a‑n The Artists Infor­mation Company, 2013 https://www.a‑n.co.uk/news/diy-in-manchester-like-a-fourth-year-of-art-school/#:~:text=Although%20formed%20just%20a%20few,social%20experiment%2Fart%20club [Accessed 3rd March, 2021]
Goodman, D. (2020) What we don't can't talk about when we talk about the artist-led, January 2020 https://​www​.youtube​.com/​w​a​t​c​h​?​v​=​q​T​t​L​z​A​2cQtI [Accessed 3rd March, 2021]
Jones, S. (2019) Artists liveli­hoods: the artists in arts policy conundrum, PhD thesis Manchester Metro­politan University, 2019. http://e‑space.mmu.ac.uk/626357/
Jones, S., Art in everyday life, Arts Profes­sional, 2015 https://​www​.artspro​fes​sional​.co​.uk/​m​a​g​a​z​i​n​e​/​2​8​5​/​c​a​s​e​-​s​t​u​d​y​/​a​r​t​-​e​v​e​r​y​d​a​y​-life [Accessed 3rd March, 2021]
Louise, D. (2011) Ladders for devel­opment: a‑n Research paper. Newcastle: a‑n The Artists Infor­mation Company.
Mart 1999, The Mart Group Appli­cation March 1998 and MART Network: A festival of visual art made in Manchester. Project Evalu­ation.
Morris, G, Hargreaves, J, and McIntyre, A. (2004) Taste Buds: How to cultivate the art market. Executive Summary. London: Arts Council England.
Stanley, M. ​'The mid-life crisis and artist-led initia­tives', a‑n Magazine, June 2000.
Glinkowski, P. (2010) Putting Artists in the Picture: Locating visual artists in English arts policy and in the evidence-base that informs it. PhD thesis, University of Surrey.
Nichol G. Intro­duction, Mind the gap, a‑n The Artists Infor­mation Company, July 2003 https://www.a‑n.co.uk/resource/mind-the-gap‑1/
Rowles, S. (2013) Lay of the land, a‑n The Artists Infor­mation Company, https://static.a‑n.co.uk/wp-content/uploads/2013/03/3171032.pdf [Accessed 3rd March, 2021]
Same Skies Think Tank https://​sameski​es​thinktank​.com/
Stanley, M. ​'The mid-life crisis and artist-led initia­tives', a‑n Magazine, June 2000.
Thelwall, S. (2011) Size Matters Size Matters: Notes towards a Better Under­standing of the Value, Operation and Potential of Small Visual Arts Organ­i­sa­tions. London: Common Practice.
Williams, R. J. (2001) ​'Anything is Possible – The Annual Programme 1995−2000' in Life is Good in Manchester: the Annual Programme 1995 – 2000, Ed S. Grennan, Trice Publications.
Wright, J. (2019) The Ecology of Cultural Space: Towards an Under­standing of the Contem­porary Artist-led Collective, PhD thesis, University of Leeds.