"This is a moment fraught with possi­bility." Isabelle Tracy, Parallel State: State of the Nation podcast 27 March 2020
This text in the Covid19 portfolio is on the future of artists' liveli­hoods. It starts by evidencing the impact of external trends on visual artists' liveli­hoods. It then identifies some of the policy misas­sump­tions and struc­tural barriers that limit artists' livelihood prospects before demon­strating that visual artists as a ​'special case' within the arts workforce are deserving of individ­u­alised attention within arts policies. It concludes by outlining the core qualities for pursuit of liveli­hoods through art practices that enable many artists to contribute to society over a life-cycle as a point of reference for policy-making during the Covid19 emergency and into the uncertain decade ahead.
Artists' liveli­hoods and changing trends
If you track the volume and value of openly-offered to artists as I've done for over 30 years, it's clear that visual artists' liveli­hoods are consis­tently affected by external economic and arts policy trends. Here's an illustration:
Artists' oppor­tu­nities comparing 1989 and 1999 from a‑n (2004)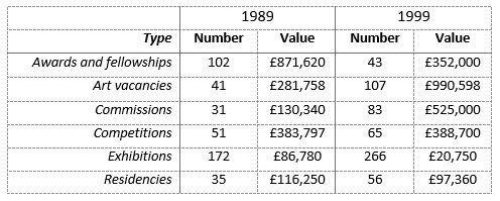 This chart shows that in 1989, the combined tradi­tional areas of awards and fellow­ships, compe­ti­tions and exhibi­tions repre­sented 56% of volume of all work and 70% of value. Artists charac­ter­is­ti­cally pursued studio-based practices, applying for awards and fellow­ships to make new work and distrib­uting finished pieces through exhibi­tions and submis­sions to opens, prizes and compe­ti­tions. Although only 5% of all oppor­tu­nities, the expanding field of commis­sions was attractive to artists, this in part because of the consid­erably larger budgets.
A decade later, although remaining 43% of total volume of all work, the tradi­tional oppor­tu­nities areas of awards and fellow­ships, compe­ti­tions and exhibi­tions reduced to just 30% of overall value. Art commis­sions had increased to 20% of overall value of all work offered to artists. These oppor­tu­nities within percent for art schemes and major public art programmes attached to regen­er­ation of waterways, cycle paths, tramways and transport systems were often supported by the (then fairly new) National Lottery funding (a‑n, 2004).
Looking back at past government and arts policy practices illus­trates that these aren't neces­sarily ​'bad' for artists. Here's two examples.
Artists whose practices incor­porate public art commis­sions have consis­tently earned better incomes than practi­tioners in other visual arts genres such as fine art exhibi­tions and sales. Whereas galleries rarely differ­en­tiate, public art commis­sioners expect to pay to get artists with suffi­cient experience in the field (

DHA

,

2013

; Baines and Wheelock,

2003

; Ixia,

2012

).
Working with Creative Partner­ships (

2003

−

11

) improved the liveli­hoods of

3

,

500

dual career artist-educators. The regular, part-time work provided financial stability for dual career artists who were paid at fair market rates (

BOP

,

2012

).
As this artist's account shows, artists weren't merely providers of a service to Creative Partner­ships' distributed agencies though because the work was comple­mentary to personal practices. ​"Sharing our creative processes with young people was invaluable for us and them. I still come across some of the kids I worked with all those years ago, who tell me they remember what we did and how much they enjoyed it."
Impact of
2008

economic crash on artists' livelihoods

Do it all, for artists' sake, now demon­strated the devas­tating, lasting impact of the 2008 economic crash on artists' liveli­hoods and how the recession and austerity period that followed irrev­o­cably affected artists' work prospects. In summary, the loss in relative value of openly-offered oppor­tu­nities in 2016 was nearly £12m. Here's two illus­tra­tions of what 2008 felt like for artists.

"Things started so well for me when I left university. I walked straight into selling work through commercial galleries and right from the beginning, I could be an artist full-time …. Then came the financial crisis when commercial galleries were strug­gling to sell. In no time at all, I went from a position of supporting my life quite easily through my artwork to being not able to at all."

"In 2008… with no notice at all, a regular freelance contract dropped from £200-£300 a week to next to nothing and there were no big projects coming my way at all."

But rather than ​'give in' to the daunting environment, such artists instead devised highly-person­alised approaches to navigating through the diffi­culties they faced. Later on in the text there's an expla­nation of the qualities these artists developed that enabled them to sustain themselves artis­ti­cally and econom­i­cally into the decade beyond.
Debunking arts policy assumptions
Although to a lesser or greater extent Arts Council England in its various incar­na­tions has inter­vened in support to artists over the last 30 years, it's consis­tently been a minor aspect of overall provision. In the austerity period, Arts Council England's policy for arts preser­vation moved as far away from supporting individual artists as it could.
The majority of National Portfolio Organ­i­sa­tions (NPO) funding for 2012 – 15 went to public-facing, building-based organ­i­sa­tions which ACE judged ​"directly made art" and ​"the most signif­icant contri­bution to our goals". What ACE termed as ​"some agencies with more of a support function", such as art form membership bodies and artist-led production facil­ities and commis­sioning bodies, were cut entirely (a‑n, 2011). Any support there is now for artists from Arts Council England is premised on three under­lying policy misassumptions.
Funding a few artist-led organ­i­sa­tions doesn't deliver support to many artists
Increased financial support for artist-led initia­tives was eminently possible thanks to National lottery funding from 1994. The Arts Council and the former regional arts boards in England actively solicited appli­ca­tions from artist-led ventures for permanent new studio buildings and galleries such as Spike Island, as well as for temporary art festivals such as the 1999 MART contem­porary. But when faced with austerity funding levels from government, ACE cut regular funding entirely to a layer of small-scale, artist-led organ­i­sa­tions whose activ­ities impacted on almost 6,700 visual artists (Louise, 2011). This illus­trated how ​"ACE clearly misun­der­stood and under­es­ti­mated" the value of such initia­tives "… by asserting that cuts would only leave gaps in … visual arts sector advocacy and leadership" (a‑n, 2011).
Although 11% (£4.8m over a 4‑year period) of ACE's NPO (National Portfolio Organ­i­sa­tions) visual arts budget is now allocated to artist-led organ­i­sa­tions, reporting parameters are better suited to measuring audience type and levels in mainstream public-facing venues. There is thus no systematic data collection by artist-led organ­i­sa­tions or funder of the nuanced or less tangible benefits, such as contri­bu­tions to sustaining artists' practices and liveli­hoods over a life-cycle, or of direct or indirect impacts on their commu­nities of interest. Neither are funded artist-led organ­i­sa­tions charged with providing a strategic ​'voice' for artists to policy-makers, nor do these neces­sarily take an advocacy role for all artists that is to say, over and above the relatively few with whom their programmes directly engage.
Profes­sional devel­opment schemes have limited impact
A key barrier to sustaining artists' practices is lack of ​'timely and affordable' profes­sional devel­opment oppor­tunity (TBR, 2018). But rather than supporting their individ­u­alised aspira­tions and progression, artists may perceive publicly-funded profes­sional devel­opment schemes as variously, too daunting, too ​'schmoozy', too expensive monetarily and their time, or the advice too generic. Here's some artists' percep­tions in illustration.
"I'm not an extrovert and I don't thrive in big bustling situa­tions and if you put me in an environment with too big a group of people I become a wallflower, so I don't do a lot of networking."
" [It] feels to me like if you're not part of this club or this studio or not paying this fee to get a circle of oppor­tu­nities, then you may as well just fuck off."
"[T]he advice I got was formulaic … They probably said the same things to most artists."
Most artists' preference is to develop their community of practice and build engage­ments for it where they are (Markusen, 2013; Speight, 2015). However, many publicly-funded profes­sional and artistic devel­opment oppor­tu­nities may be inacces­sible for artists, partic­u­larly those with regular child or eldercare responsibilities.
"I'm respon­sible for my family .… I don't like to think about being away from home for more than a couple of days at a time. I want to be a good father, taking my daughter to school every day."
"I'm not from a privi­leged background, so even if I … was able to travel to other places, I'd [need to be financed]."
High levels of compe­tition are inevitable and healthy
Anecdotal evidence indicates an increasing reliance on recom­men­dation to identify artists for publicly-funded exhibition and commission oppor­tunity. Being on the radar of nominators is dependent on artists first having the oppor­tunity to become visible. But the ​'Catch 22' here is that to ​'get noticed' and achieve artistic success on merit, artists need first to have work shown in exhibi­tions and discussed by peers, other artists, critics, curators and academics (Jones, 2017; Bowness 1989).
Decline in openly-offered exhibition and compe­tition oppor­tu­nities in favour of the recom­men­dation route contributes to discrim­i­nation — such as on gender, ethnicity and social class grounds — that publicly-funded arts organ­i­sa­tions are committed to eradi­cating. Handing on employment oppor­tu­nities through recom­men­dation or within a ​'club culture' exacer­bates inequality of oppor­tunity across the creative indus­tries as a whole because individuals' ability ​'get on' is dependent less on merit and more on ​'network sociality' (McRobbie, 2002). Here's an illustration:
"I know there are curators who get to recommend artists for the ​'closed' bursaries and commis­sions, you know, that only artists who are invited can apply for. Obviously, they don't want hundreds and hundreds of appli­ca­tions to look at, but I do worry that it makes every­thing about their taste in artists."
Struc­tural barriers
Do it all, for artists' sake, now outlined the speci­ficities of visual artists' liveli­hoods, charac­terised by low income, high self-employment levels and inherent limita­tions attached to acquiring work and oppor­tunity to succeed. An excep­tional case: artists and self-employment demon­strated how the ambigu­ities attached to this status – as held by 77% of visual artists — impacts on liveli­hoods (CCS, 2012). Two condi­tions created by arts policy further exacerbate artists' ability to sustain liveli­hoods through art practices.
Business models adopted by funded organ­i­sa­tions as a resilience requirement of funding are detri­mental to artists' pursuit of livelihoods
Organ­i­sa­tions cannot (or chose not to) afford to pay industry rates for artists' various programmes inputs — such as exhibi­tions, gallery education and partic­i­patory and outreach. They are neither willing to pay rates reflective of artists' production and living costs nor to acknowledge finan­cially the inter­re­la­tionship between artists' contri­bu­tions to public engagement and their business resilience (DHA, 2013). That 28% of all openly-offered awards, commis­sions, compe­ti­tions and residency oppor­tu­nities don't offer any money also restricts artists' pursuit of liveli­hoods through art practices over time (Jones, 2017).
Steep decline in direct funding from

ACE

for artists' research and development
Just 135 artists (11.5% of appli­cants) gained Devel­oping your creative practice awards in 2018⁄19 whereas fifteen years ago, 1,721 artists (52% of appli­cants) were awarded Grants for the Arts (Jones, 2019). In today's highly-compet­itive environment, artists with ​'hidden' disabil­ities in particular struggle to formulate acceptable grant applications.
"When you're writing appli­ca­tions, it seems to me that you have to be able to read between the lines. I'm dyslexic so struggle with words and I'm not good with numbers either. Even the questions in appli­cation forms are in a language I just wouldn't write in and there's no one to ask for help from."
In combi­nation, these are policy circum­stances which deny all but a very few artists access to levels of financial support that sustain liveli­hoods through art practices over time. As such, they present a formi­dable barrier to achieving equality of oppor­tunity and diversity in the arts workforce to which policy aspires (ACE, 2020).
Improving artists' livelihoods
However there is a logical argument for greater public support to individual artists. As pursuit of art practices is ​'mission-driven', artists' modus operandi aligns with the ​'sustainable subsis­tence model' of social enter­prise (Kerlin, 2013). Artists are thus deserving candi­dates of public subsidy of some kind to maintain liveli­hoods through arts practices over a life-cycle. This is because although they employ aspects of entre­pre­neurial behav­iours when deliv­ering value to society with the intention of being finan­cially independent, self-suffi­cient and sustainable, artists' ability to benefit econom­i­cally from the various markets for visual arts the very nature of the infra­structure in which they operate constrains their income-gener­ation (Abu Saifan, 2012).
When arts policies are premised on ​'trickle down' from funded insti­tu­tions to artists the detri­mental impacts on artists' liveli­hoods are inevitable. In such a hierarchy, artists are an ubiquitous human resource positioned at the bottom, to be tapped for others' benefit. Rather than grounds for co-devel­opment, empow­erment and trans­for­mation, exchanges between artists and arts organ­i­sa­tions are predom­i­nantly short-term and trans­ac­tional. The result is that much of what many artists could offer to society is unrecognised.
An alter­native to current talent wastage is offered by new analysis drawn from rich, quali­tative evidence which identifies three key charac­ter­istics that are core to realising livelihoods.
Artists acquire confi­dence to act through access to the tripartite condition of ​'creative space'. This comprises the iterative, slower-paced ​'space and time' premised on freedom to develop artis­ti­cally and techni­cally within environ­ments that acknowledge their motiva­tions and beliefs, access to self-deter­mined profes­sional devel­opment such as mentoring and the crucial immediate supportive personal and profes­sional ​'circles of trust' providing consistent emotional, intel­lectual and artistic sustenance.
Artists' sense of belonging arises when they have secured ​'situated practices', those which are conceived, developed and modified by artists over time in relation to artistic ambitions which encompass their person­alised circum­stances including where they live and their family contexts.
Rather than being the subject of gatekeeping, what really sustains the practices of many artists over time are contexts in which they can ​'get ahead' rather than just ​'get by' (Putman, 2000). The co-validation arising from self-directed, artist-specific, iterative, negotiated relation­ships with empathetic and like-minded people and insti­tu­tions enable artists to consol­idate their position on their own terms.
Condi­tions that foster these charac­ter­istics support and amplify ​'motility', this defined as the volition or ability of artists to move sponta­neously and indepen­dently in a way strongly reflective of and finely tuned to their specific artistic aspira­tions and personal needs. Motile artists operate as ​'flesh-and-blood' people, grounded in their social background and location, whose under­standing and framing of their hopes, fears, desires and future devel­opment as artists and people is embedded into the experi­ences, commit­ments and decision-making of daily lives.
Artists who are motile are less likely to fall victim to systems they have no hand in shaping, including to work environ­ments implicitly and explicitly exploitative of emotional and economic vulner­a­bil­ities. As contrib­utors to a cooper­ative, diverse visual arts ecosystem in which multiple values are co-created, artists with motility have the capacity to sustain art practices and liveli­hoods over a life cycle.
Thanks to Simon Poulter and Sophie Mellor for an (as yet unrealised) oppor­tunity to present Exploding myths: the future of artists' liveli­hoods at CAMP in 2020; ERS (Liverpool John Moores University) for an invitation to present Resetting support to artists at What We Don't Talk About When We Talk About The Artist-Led symposium, 31 January 2020; to Rose Butler, Jon Dovey, Tim Etchells, Adrian Friedli, Simon Poulter, Isabelle Tracy and Hwa Young Jung, my collab­o­rators in two Parallel State: State of the Nation podcasts (on 27 March 2020 and artist Eve Esse for conver­sa­tions as part of her being writer in residence with CAMP.
Refer­ences
This text which draws from analysis and commentary from my doctoral thesis Artists' liveli­hoods: the artists in arts policy conundrum, 2019 available at http://e‑space.mmu.ac.uk/62635…,
a‑n The Artists Infor­mation Company. (2004). Art work: Artist's jobs and oppor­tu­nities 1989 – 2003. https://www.a‑n.co.uk/resource/art-work
a‑n The Artists Infor­mation Company. (2011) ​'ACE Wednesday', www.a‑n.co.uk/resource/ace-wednesday
Arts Council England. (2020) Equality, Diversity and the Creative Case: a data report 2018⁄19. https://​www​.artscouncil​.org​.uk/​p​u​b​l​i​c​a​t​i​o​n​/​e​q​u​a​l​i​t​y​-​d​i​v​e​r​s​i​t​y​-​a​n​d​-​c​r​e​a​t​i​v​e​-​c​a​s​e​-​d​a​t​a​-​r​e​p​o​r​t​-2018 – 19
Baines, S. and Wheelock, J. (2003b) ​'Creative liveli­hoods: the economic survival of artists in the North of England.' Northern Economic Review 33⁄34. pp. 118 – 133
BOP. (2012) The Impact of Creative Partner­ships on the Cultural and Creative Economy. London: Creative Partner­ships. London: Arts Council England.
Bowness, A. (1989) The Condition of Success: How the Modern Artist Rises to Fame. Text of the Walter Neurath Memorial Lecture, 7 March 1989, Birkbeck College, University of London. London: Thames and Hudson, 1989.
CCS. (2012) Visual Arts Blueprint. London: Creative and Cultural Skills.
DHA. (2013) Paying artists: Phase 2 findings. Newcastle: a‑n The Artists Infor­mation Company.
Ixia (2012) Ixia's Public Art Survey 2011.
Jones, S. (2017) Artists work in 2016. Research paper. Newcastle: a‑n The Artists Infor­mation Company.
Jones, S. (2019) The chance to dream: why fund individual artists? Published on this website.
Kerlin, J. A. (2013) ​'Defining Social Enter­prise Across Different Contexts: A Conceptual Framework Based on Insti­tu­tional Factors.' Nonprofit and Voluntary Sector Quarterly 42(1) pp. 84 – 108.
Louise, D. (2011) Ladders for devel­opment: a‑n Research paper. Newcastle: a‑n The Artists Infor­mation Company.
Markusen, A. (2013) Artists work Every­where: Policy Brief. Work and Occupa­tions. 40(4) pp. 481 – 495.
McRobbie, A (2002), Clubs to Companies: Notes on the decline of political culture in speeded up worlds, Cultural Studies, 16(4) pp. 516 – 147.
Putman, R. (2000) Bowling Alone: The Collapse and Revival of American Community. New York: Simon & Schuster.
Speight, E. (2015). ​'Listening In Certain Places: Public Art for the Post-Regen­erate Age'. In The Everyday Practice of Public Art: Art, Space, and Social Inclusion. Cartiere, C. and Zebracki. M. (eds.) London: Routledge. pp. 177 – 192.
TBR. (2018) Liveli­hoods of Visual Artists: Summary Report. London: Arts Council England.